Merch
Jump to navigation
Jump to search
Like many super mario games, official merchandise and collectibles are made around it to further advertise the game, make extra profit, and satisfy fans. Nintendo does this a lot, so it'd only make sense Sunshine would have a decent amount of official merchandise.
Images taken from around the internet. For reference only.
The Game Itself
[
edit
]
Plushies
[
edit
]
| Employee Shirt | Nintendo Power Shirt | Shirt |
| --- | --- | --- |
| | | |
| Given to Nintendo employees | Ordered through Nintendo Power | Unknown |
There is also a shirt you could win through Mario's Ultimate Beach Party Sweepstakes, but it is unknown what this shirt looks like.
Strategy Guides
[
edit
]
Japanese Pin Set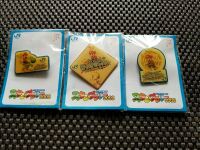 Nintendo Power Figure
[
edit
]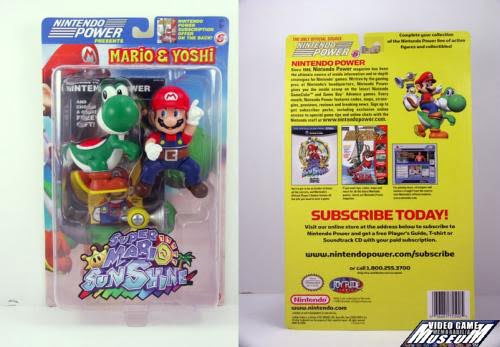 Game Preview CD
[
edit
]
Part of Best Buy's ad campaign Turn on The Fun!, select GameCube games could be pre-ordered through Best Buy and if you did so you would receive a complimentary preview CD with content to show you before the game comes out. This CD comes with over 20 prerelease screenshots, two audio tracks, links to official websites, and a trailer.
This disc is very rare. It was undocumented until 2015 when SuperSonicTailsEAS dumped it. Since then only one other listing has shown up on eBay.
Toys "R" Us Towel
[
edit
]
Being one of the first few to buy Super Mario Sunshine at a Target, you would receive a towel alongside the game as a bonus.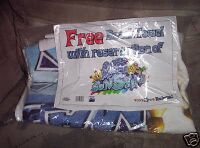 Backpack
[
edit
]
Best Buy Canada held their own promotion where if you showed up and were the first to buy Sunshine at your local Best Buy, you would receive a complimentary backpack alongside the game. The backpack is very bland and only has the Sunshine logo imprinted on it.
NO PIC SORRY :(
Mousepad
[
edit
]
eBay Giganto-Saurus Back-To-School Sweepstakes Disc
[
edit
]
In 2002 eBay held a back to school sweepstakes to advertise many products. One of the sweepstakes prizes was a GameCube bundled with Super Mario Sunshine. One of the ways they handled information about this sweepstakes is through a CD-ROM obtained at select movie theaters. This CD contains information on the sweepstakes as well as advertisements, one of those being Sunshine.
This disc has never been dumped and is very hard to come by.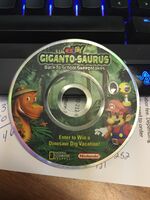 GuiaVideo Guide CD
[
edit
]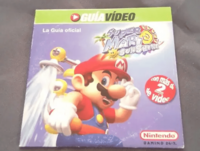 Advertising Pieces
[
edit
]
Not actually really merchandise, but it is still official.